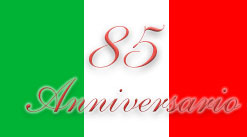 This year recurs the 85th Anniversary of Cittadini spa, which was started in Sulzano in 1933 by Cesare Cittadini and then continued by his son Giovanni, who was its 'soul' until 2013, the year when he died after an inexorable disease.
Cittadini's family will meet with all the collaborators, past and present, on the 24th of June, to share the memory of Caesar and Giovanni with a Mass of suffrage celebrated by the parish priest Don Gianni in the Church of Paderno Franciacorta, during which the collaborators who died in previous years will be remembered.
A convivial moment will follow at Villa Giardino: the opportunity to express affectionate gratitude to all those who have collaborated over time to achieve this prestigious goal, with the awarding of those with seniority from 20 to 40 years and the awarding of scholarships to the children of collaborators who have distinguished themselves for their academic merits. The Cittadini net will be further strengthened in this circumstance with meshes of strong cohesion and solid ties of affection and synergy.