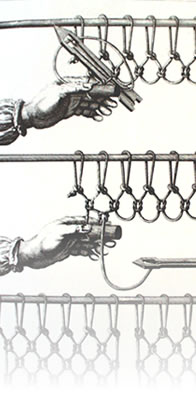 Cittadini Spa's history started in 1935, when Cesare Cittadini founded in Sulzano a crafts lab to manufacture fishing nets, a typical, traditional business on Iseo Lake.
In 1962 his son Giovanni turned the lab into a factory.
Giovanni, current director, added a rope plant and in 1972 widened the company opening a new production site in Marone. He carried out the first complete working cycle, introducing a twisting department for the manufacturing of nylon cords necessary for net weaving.
The fast, constant development of the nets company led to the creation of a more modern factory in Paderno Franciacorta, district of Brescia (in an area of 45,000 sm with 12,000 sm of covered facilities).

In that period the company became a joint-stock entreprise and was called Cittadini spa.
In the new site in Paderno Franciacorta the company productivity was furtherly expanded by the introduction of new looms, twisters and a dyehouse to dye nets and yarns. Thanks to the know-how achieved in the production of high-tenacity synthetic yarns, the company started to produce a wider range of yarns, industrial sewing threads and technical yarns for weaving, ribbon factories and other industrial applications.
In the 1990s the company was also provided with finishing workings (waxing, lubrication, spooling, etc.) for footwear braids and laces. They completed the offer of sewing threads sold in industrial packaging, king spools and flanges.


Four different production departments have developed inside Cittadini spa, which still characterize the company:
manufacture of nets, diversified and widened: not only traditional fishing nets, but also nets for aquaculture, agriculture, sport, safety in building sector and other industrial innovative applications.
manufacture of yarns, including different kinds of cords for all fishing nets and sewing threads, supplied natural or dyed in several standard and special colors, according to customer's requirements.
manufacture of ropes, used in manifold sectors, made of all synthetic fibers.
manufacture of braids, made of various fibers and used in several applications. Thanks to its own finishing and dye departments, Cittadini spa is specialized in all high-tenacity braids, natural and dyed, waxed and lubricated, used in the sectors of footwear sewing, peltry and furnishing.