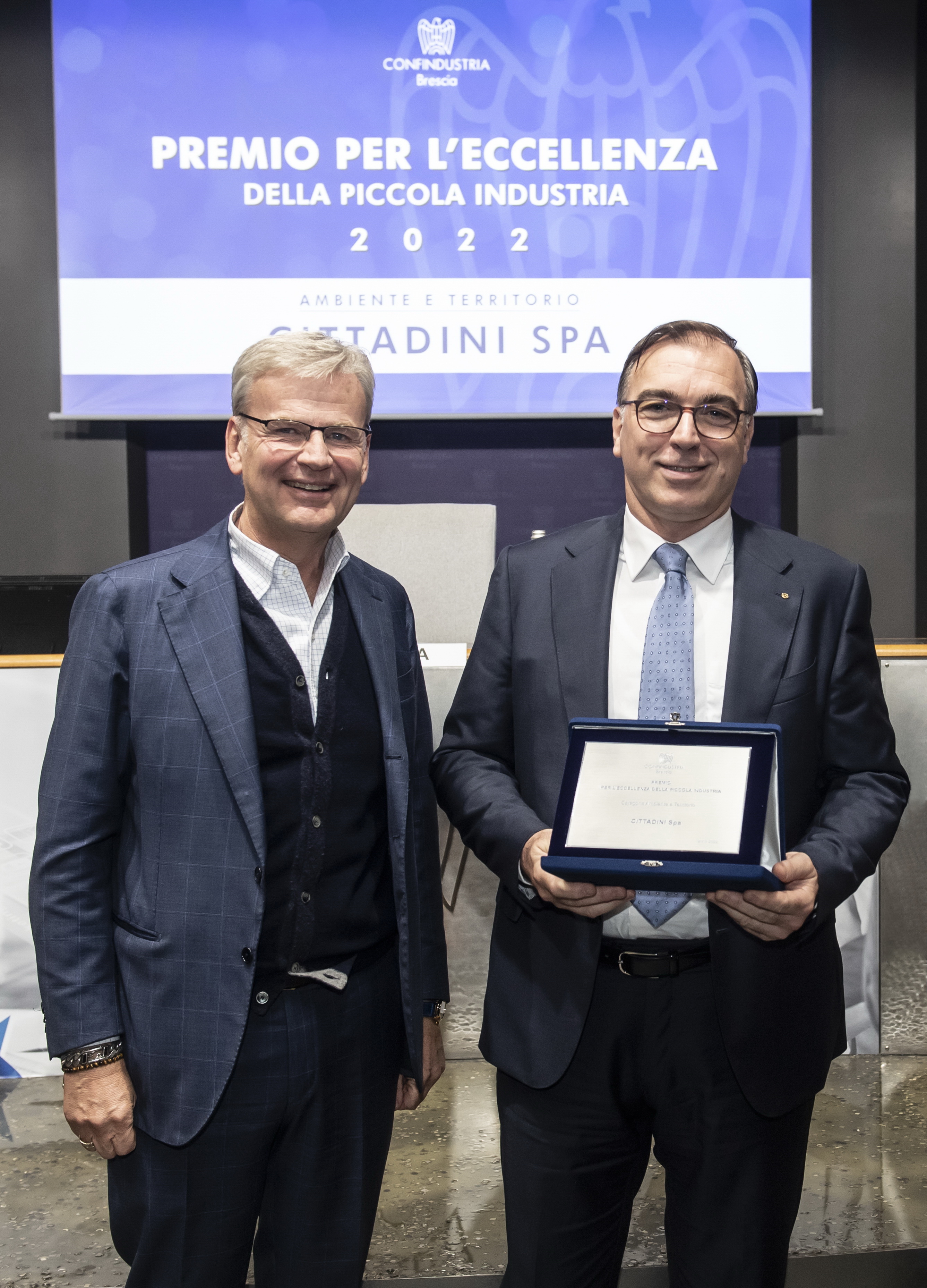 SME Excellence Award 2022 - Environment and Territory
On Friday 4 November, Cittadini spa was awarded the Confindustria Brescia "SME Excellence Award 2022" for the "Environment and Territory" category.
This prestigious recognition rewards the "Conscious and shared Sustainability" project that our Company wanted to implement as part of its policy of "continuous improvement of C.S.R.", operating in different areas and in various ways in relation to the Environment and the Territory.
Convinced that the environment is a primary asset to be safeguarded, the company has planned its activities in order to reduce its environmental impact on the territory and increase the awareness and training of employees on environmental sustainability issues. The measures adopted include: the acquisition of new Industry 4.0 machinery, the reduction of energy consumption with the installation of a highly efficient LED lighting system, the installation of an important photovoltaic system on the entire roof of the shed, equipped with optimizers and a monitoring system, the reduction of water consumption with the installation of tanks for the recovery of hot water, the Industry 4.0 upgrading of the water waste purification system, the reduction of wastes and the quantity of waste all disposed of and sent for recycling.
The "green philosophy" embraced from time by the company has also stimulated Research and Development in the field of new fibers, according to the criteria of the circular economy, generating the study and production of yarns and nets worked with recycled materials, which have allowed Cittadini to obtain the prestigious international certification GRS 4.0 (Global Recycle Standard) to meet the needs of increasingly sustainable products, especially in the fashion / design and technical sectors.
Cittadini, thanks to its decades of experience in the processing of any type of nets, has also always implemented an intense Research and Development activity at Italian and European level, where it recently participated in a Call of the Horizon 2020 program with the "SEALIVE" project , which aims to reduce plastic waste and the contamination of our environment by promoting the use of biomaterials.
The benefits obtained with the "Conscious and shared sustainability" project were also numerous from a quantitative point of view: first of all, a reduction in energy consumption, an increase in efficiency of all phases of the production cycle and a qualitative increase in the same, as an improvement in quality of products and their durability over time.
In general, the Cittadini's Project, in addition to increasing the awareness of collaborators on ESG topics, has strengthened relations in this respect with customers and suppliers, with a view to sustainable growth and shared socio-economic development.